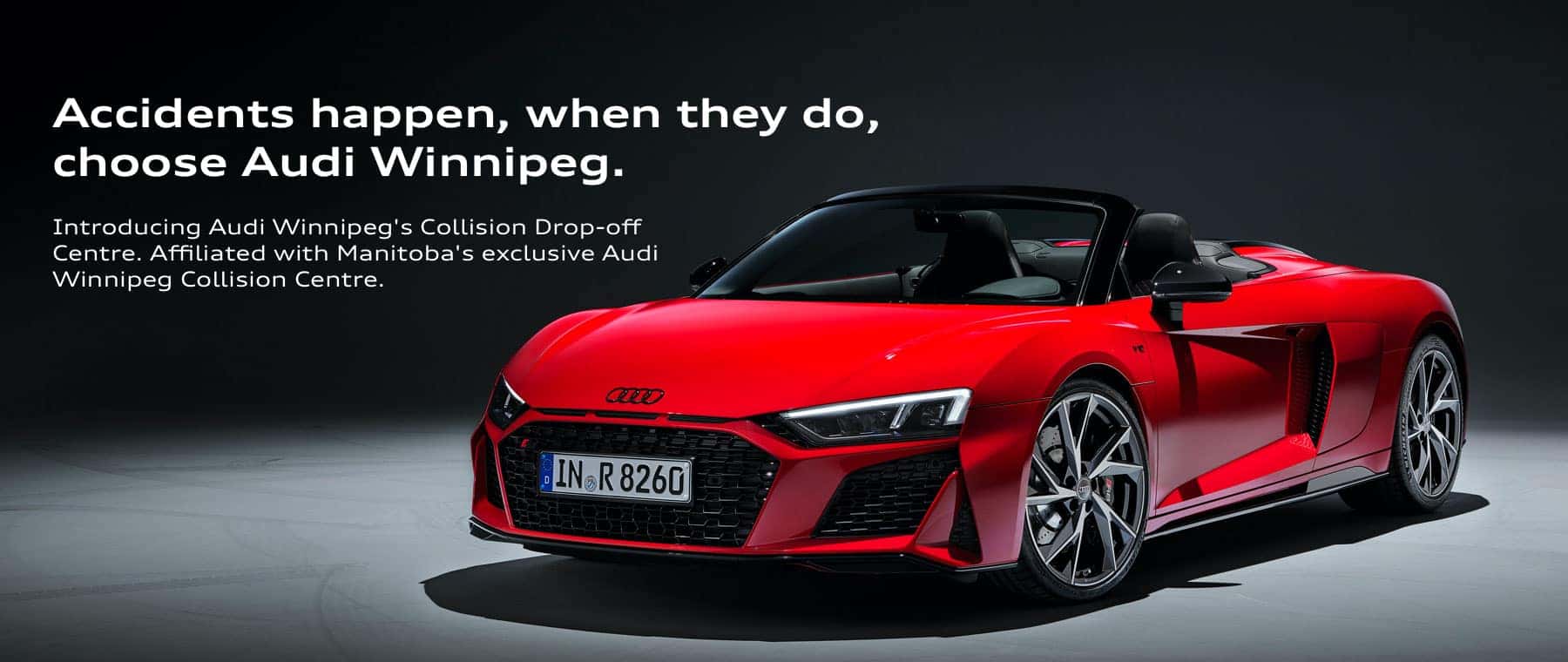 Our fully equipped collision centre can handle your auto body repair needs. We operate closely with insurance companies to ensure that your vehicle returns to a like-new state quickly. The paint shop works tirelessly to match all colours and trims, yielding a factory-quality finish. From a mild fender bender to a more serious car crash, no one likes a car accident. Allow our trained professionals to complete your automobile restoration to manufacturer-specified standards.
Additional auto body services
We also provide car window tinting, paintless dent removal, auto body rust repair, wheel restoration and detailing services. Our skilled auto body team is ready to make your car shine!
Contact Audi Collision
| | |
| --- | --- |
| Monday | 7:00AM - 6:00PM |
| Tuesday | 7:00AM - 6:00PM |
| Wednesday | 7:00AM - 6:00PM |
| Thursday | 7:00AM - 6:00PM |
| Friday | 7:00AM - 6:00PM |
| Saturday | Closed |
| Sunday | Closed |
Manitoba's Exclusive Audi Winnipeg Collision Centre
Complimentary Repair Estimates
Windshield & Glass Repair
Paint Refinishing
Interior & Exterior Details
Dent Removal
Valet & Car Rental
At some point in your vehicles lifetime you may require glass, or windshield repair or replacement. Your vehicle's glass and windshields can become cracked, chipped, or scratched in the course of daily use. Windshields will also deteriorate over time due to factors like the sun, dirty windshield wipers and general debris from the road.
Our glass repair services include:
Front & rear windshield repairs
Windshield replacement
Safety system recalibration
Car window & power window repairs
Competitive pricing & insurance claims assistance (if required)
Whether you require a simple glass repair, or a full windshield replacement our specialist team of auto glass technicians are here to help.
Not only will we repair your vehicle to its original condition, our OE trained and certified collision repair experts will always look for the unique safety features on your vehicle that simply must be properly repaired.
Electronic perimeter monitoring systems that must be re-calibrated for accuracy.
Bluetooth and hands-free link connections are in sync.
Structural components of your vehicle are manufactured with high strength steel or aluminum and must be repaired by a collision expert to ensure the vehicle dynamics and occupant protection remain safe.
AutoCanada has a long history of concern for the environment, and actively seeks ways to meet the growing transportation needs of society in ways that are less harmful to our earth. We are proud to host environmentally friendly waterborne paint technology at all our collision centres instead of using materials containing harsh chemicals. Our certified technicians offer consistent, professional and accurate auto repair services using environmentally friendly practices in order to better serve your vehicle and the community.
Hours of Operation
| | |
| --- | --- |
| Monday | 7:00AM - 6:00PM |
| Tuesday | 7:00AM - 6:00PM |
| Wednesday | 7:00AM - 6:00PM |
| Thursday | 7:00AM - 6:00PM |
| Friday | 7:00AM - 6:00PM |
| Saturday | Closed |
| Sunday | Closed |